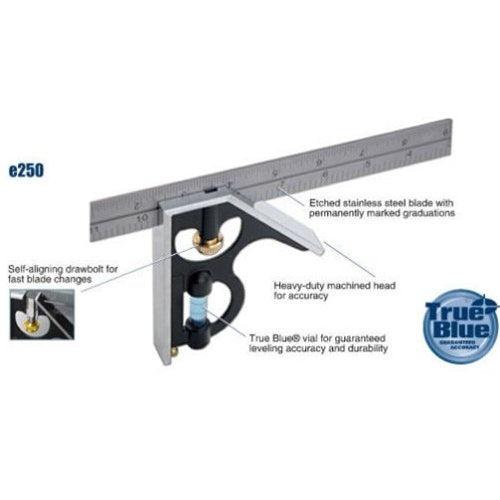 e250 Professional Combination Square
12-inch Heavy Duty Professional Combination Square with Etched Stainless Steel Blade and True Blue® Vial. The e250 Combination Square features a stainless steel blade and matte finish that will never rust or corrode. The True Blue® vial is guaranteed accurate to within .00050 inch and It carries a lifetime guarantee.  

True Blue®
Empire Level is the home of True Blue® – the most accurate vials in the world. The newly designed True Blue® series of levels and squares are engineered to provide maximum accuracy, extreme durability, and enhanced readability with the strongest warranty in the industry. Empire Level is the leading designer and innovator of accurate levels and measuring tools. The blue fluid in our level vials is Empire's unique symbol of superior accuracy and a trademark of Empire Level Mfg. Corp.