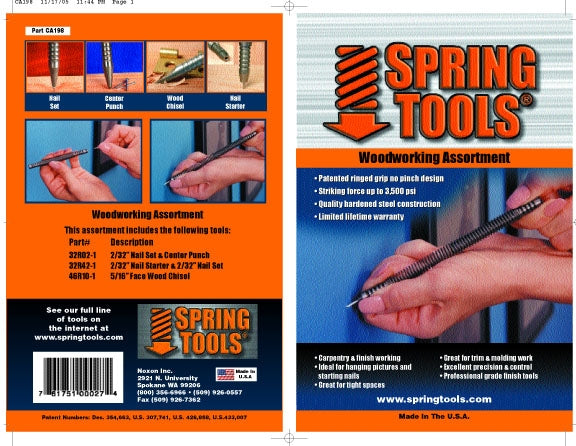 CA198 Basic 3 Piece Wood Working Set
All Spring Tools Utilize Hammerless Patented Technology for Superior Results
Includes 2/32" Nail Set & Center Punch, 2/32" Nail Starter, and 5/16" Wood Chisel.
3500 LBS of Impact striking Force
Outstanding Precision & Control while Safe & Easy to Use.
Lifetime Guarantee & Made In The U.S.A.
Benefits:
Easily Set any Nail or Brad
Center Punch Wood or Steel. Great for Marking for Drilling
Start Upto #2 Nails and Set Them with opposite End of Tool
Wood Chisel is Ideal for Mortising Around Doors & Windows