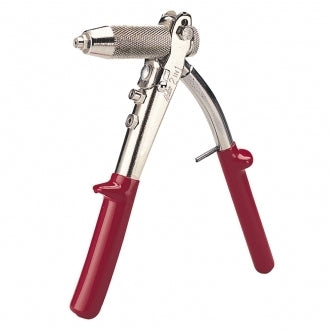 Hand Riveter: 2 in 1
One hand operation with normal squeezing action provides enough pulling power to set all popular size rivets. 2-in-1 adjustment features a single long stroke for most hand riveting applications and a short "ratchet action" power stroke for setting larger diameter rivets. Outside jaw-grip adjustment wheel opens and closes jaws with fingertip ease to fit any size mandrel and to obtain maximum stroke efficiency.

Professional slim nose allows 2-in-1 to go where other hand riveters cannot. Ideal for reaching into corners and recessed areas. Three nosepieces 1/8", 5/32", and 3/16", included with tool. Nosepieces are stored in handle. Heavy duty all steel construction insures long life and minimum wear. Polished finish, nickel-chrome plated. Red vinyl cushion grip and hand stop.
| Catalog # | Description | Capacites in. (mm) | Tool Length in. (mm) | Net Weight oz. (g) |
| --- | --- | --- | --- | --- |
| 2-in-1 | Hand Riveter | 3/32 thru- 3/16 (2.4 - 4.8) steel rivets 3/32 thru- 5/32 (2.4 - 4.0) stainless steel rivets | 8 (203) | 20 (567) |