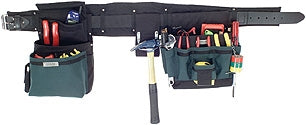 ******** Free Shipping Cost in US ********
Made in U.S.A.
ULT100 Ultimate Electrician Comfort Combo w/QRB Color - Black
Includes:
ULT110 - Ultimate Connect-A-Pouch
530 - Hammer Holder
ULT120 - Ultimate Electrician Tool Pouch
500 - Comfort Belt w/QRB
(Sizes: S, M, L, XL Available
• 13 slots, 19 pockets.
• Accomodates up to two Connect-A-Pouches.
• Comfortable Belt System w/thick closed cell foam.
• Upper Velcro Pocket with elastic slots.